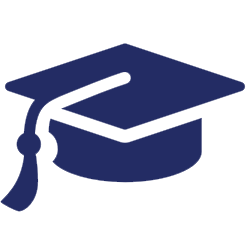 Take your career to the next level with a professional designation! Through WVAA's affiliation with the National Apartment Association Education Institute (NAAEI) we offer multiple national professional designations.
Contact WVAA to find out more.
The multifamily housing industry is growing. Competition is fierce and multifamily housing professionals face more challenges than ever before. Education is the key to meeting these challenges and taking your career to the next level. WVAA is highly committed to the enhancement of skills and knowledge of our members and future members.
Rental housing industry professionals look to WVAA as a leading source for industry education. WVAA offers a variety of educational offerings to fit the needs of rental property owners, mid-to-upper level management company executives, REIT executives, property supervisors, and onsite personnel.
WVAA UTILIZES THE NATIONAL APARTMENT ASSOCIATION'S PROFESSIONAL DESIGNATION COURSES
It's the single MOST important thing you can do for your career.
86.6% of supervisors noticed an improvement in their employee's work performance after completing the CAMT course
75% enhanced the ability to analyze the property's financial operations after completing the CAM designation course and community analysis project
Upon completion of the NALP course, 81% of the supervisors reported an improved closing ratio
100% believe that the CAPS designation course is a good use of the employee's time & the company's money.
Additionally, 57% reported an improvement in financial management, risk management, and portfolio management.
WHAT IS A PROFESSIONAL DESIGNATION?
The National Apartment Association Education Institute (NAAEI) designation programs are nationally recognized by the entire apartment industry. These programs focus on apartment industry related topics from marketing to financial management.
Certified Apartment Manager (CAM)
Earning your CAM credential gives you the knowledge to increase your community's net operating income. Whether you're new to apartment management or a long-time property manager, you'll enhance your skills, knowledge, and ability to effectively manage an apartment community and achieve its owners' investment goals.
Certificate for Apartment Maintenance Technician (CAMT)
Maintenance expenses are the single largest controllable element in any operating budget. This course acts as an introduction for new maintenance professionals or as a refresher for the veteran employee, teaching what it takes to run a cost-effective maintenance program.
National Apartment Leasing Professional (NALP)
Leasing professionals are the first people prospective residents meet and are responsible for generating traffic, conducting leasing demonstrations, overcoming objections and qualifying prospective residents. This program teaches all these skills and more.
Certified Apartment Portfolio Supervisor (CAPS)
This program's curriculum emphasizes recruiting, retaining and engaging high-performing employees. You'll also learn how to analyze and report property and portfolio financial results, conduct due diligence and community takeovers and oversee management agreements.
Certified Apartment Supplier (CAS)
A valued supplier partner has a deep understanding of the apartment industry. This course helps you gain that insight so you can better position your products and services to meet industry needs. This course is ideal for new salespeople and helps industry veterans gain further knowledge of apartment community operations.
Independent Rental Owner Professional (IROP)
The Independent Rental Owner Professional (IROP) credential program is for rental owners who personally hold and manage an apartment property or properties. Independent owners can benefit from training in budget management, tax planning, preventative maintenance, energy efficiency and rental unit preparation as well as qualifying and retaining residents.
Specialist in Housing Credit Management (SHCM)
The Specialist in Housing Credit Management (SHCM) credential helps management professionals master the complex requirements of the Low-Income Tax Credit (LIHTC) program. Affordable housing managers will learn how to communicate LIHTC regulations and processes, prepare for physical inspections, resolve noncompliance and manage documentation and recertification.
Credential for Green Property Management (CGPM)
The Credential for Green Property Management (CGPM) provides management companies and owners a mechanism for meeting initial and ongoing HUD Office of Affordable Preservation (OAHP) training commitments after opting for a green Mark-to-Market restructuring. It also benefits anyone employing Green Operations and Maintenance Practices. Credential holders learn the latest techniques and technologies to make cost-saving green improvements at properties.
Learn more about these designations by CLICKING HERE.
WHY GET A PROFESSIONAL DESIGNATION?
It's simple: A designation puts you at the forefront from the rest of your industry peers.  A designation shows that you are a successful and competent professional. It also signifies that you are not only committed to the multi-family rental housing industry, but also to developing your career.
Contact WVAA to find even more educational opportunities.